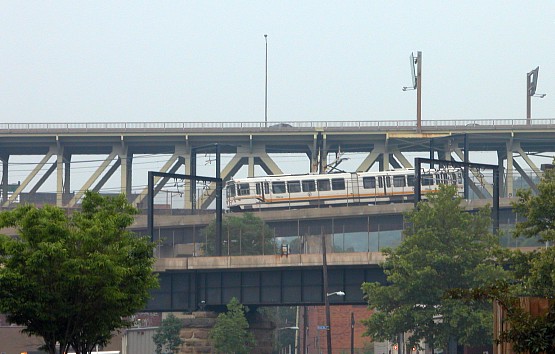 Image of a Brown Line Train on the "fly-over" bridge between Downtown Pittsburgh and the South Side. The fly-over bridge connects the Brown Line to the Main Light Rail Line on the Panhandle Bridge (a former Pennsylvania Railroad bridge, shown in the foreground), which crosses the Monongahela River. The last heavy-rail, passenger train to use the Panhandle Bridge was Amtrak's version of the National Limited between New York City / Washington DC and Kansas City, from 1971 to 1979.
(Image Source: snipview.com)
By Glenn A. Walsh
Reporting for TransportWatchtower
On Sunday Afternoon, August 5, seven freight cars from a Norfolk Southern train bound for Chicago derailed near the Station Square section of Pittsburgh's South Side. Seven of these Norfolk Southern rail cars, including 42 storage containers, toppled from the Pittsburgh South Side rail "shelf"; a few fell onto the Port Authority of Allegheny County's (PAT) Light Rail Transit right-of-way, including the eastern portion of the Light Rail station at Station Square.
For several weeks, as the rail station, tracks, and over-head electrical wires at Station Square were unusable, Red and Blue Line trains were diverted to Brown Line tracks traveling over Mount Washington through the Allentown – Hilltop neighborhood. Regular rail service on the Brown Line had been suspended after the last trip on 2011 March 27, due to a 15 percent PAT general service reduction.
The temporary diversion of Red and Blue Line trains over the Brown Line resulted in about a ten-minute delay in rail service. To avoid further delay, train operators were instructed not to make any stops along Arlington or Warrington Avenues. Consequently, residents and business owners, remembering the greater rail service the neighborhood enjoyed prior to 2011, started demonstrating for return of regular Brown Line rail service.
On September 28, long-time public transit advocate Glenn A. Walsh spoke before the regular monthly meeting of the Board of Directors of the Port Authority of Allegheny County, seeking the reinstatement of Brown Line rail service in 2019. The following is the September 28 public statement of Mr. Walsh:
Statement before
Glenn A. Walsh
Board of Directors,
P.O. Box 1041
Port Authority of
Pittsburgh, Pennsylvania 15230-1041 U.S.A.
Allegheny County:
Telephone: 412-561-7876
Friday, 2018 September 28
Good morning. I am Glenn Walsh, 633 Royce Avenue, Mt. Lebanon, a regular Light Rail and bus rider who has chosen not to drive a motor vehicle since 1985, to help save energy, protect the environment, and reduce city traffic congestion. I have been an active transit advocate for 40 years, including 3 terms on the Allegheny County Transit Council as a Charter Member. My comments today are my own and do not reflect those of any organization.
Last month, the railroad accident at Station Square resulted in Light Rail use of Brown Line tracks, without any stops along Warrington or Arlington Avenues. Residents and business owners in the Allentown-Hilltop neighborhood are now, logically, calling for restoration of Brown Line Rail Service.
Recent newspaper reports indicate, according to PAT sources, that restoration of Brown Line Rail Service would cost $1.3 million. I wonder if there is proper accounting here.
Does this $1.3 million figure include maintaining the tracks and over-head wires, and if so, why? We all know PAT will maintain these tracks and over-head wires regardless! The cost of maintaining these tracks and over-head wires should NOT be charged against restoration of Brown Line Rail Service.
Brown Line headways should be evaluated as if adding headways to the Red or Blue Lines---but, due to a much shorter distance, the cost would be much lower!
And, since the Brown Line would now serve the North Side, in addition to Downtown, it would likely attract even more riders!
Brown Line Rail Service should be restored in 2019.
gaw
Internet Links to Additional Information ---
Brown Line Rail Service:
Link >>> https://en.wikipedia.org/wiki/Brown_Line_(Pittsburgh)
News Articles Regarding Diversion of Red & Blue Rail Lines to Brown Line Tracks, due to Station Square Rail Accident:
Link >>>
http://andrewcarnegie2.tripod.com/transit/pat/#brownline2018
Source: Glenn A. Walsh, 40- year public transit advocate and a Charter Member of the Port
Authority of Allegheny County's citizens advisory committee (member of Allegheny
County Transit Council: 1984 to 1989).
Thursday, 2018 October 4.
Like This Post? - Please Share!
gaw
Glenn A. Walsh, TransportWatchtower Editor / Author: <
http://buhlplanetarium2.tripod.com/weblog/spacewatchtower/gaw/
>
Electronic Mail - <
gawalsh@planetarium.cc
>
TransportWatchtower Blog: <
http://transportwatchtower.blogspot.com
>
Astronomy Links: <
http://buhlplanetarium.tripod.com/#astrolinks
>
Science Links: <
http://buhlplanetarium.tripod.com/#sciencelinks
>
SpaceWatchtower Twitter News Feed: <
https://twitter.com/spacewatchtower
>
SpaceWatchtower Blog: <
http://spacewatchtower.blogspot.com/
>
LibraryWatchtower Blog: <
http://librarywatchtower.blogspot.com
>
South Hills Backyard Astronomers Blog: <
http://shbastronomers.blogspot.com/
>
Barnestormin Blog: Writing, Essays, Pgh. News, etc.: <
http://www.barnestormin.blogspot.com/
>
Author of History Web Sites on the Internet --
* Buhl Planetarium, Pittsburgh:
<
http://www.planetarium.cc
>
* Adler Planetarium, Chicago:
<
http://adlerplanetarium.tripod.com
>
* Astronomer, Educator, Optician John A. Brashear:
<
http://johnbrashear.tripod.com
>
* Andrew Carnegie & Carnegie Libraries:
<
http://www.andrewcarnegie.cc
>
* Civil War Museum of Andrew Carnegie Free Library:
<
http://garespypost.tripod.com
>
*
Duquesne Incline
cable-car railway, Pittsburgh:
<
http://inclinedplane.tripod.com
>
* Public Transit:
<
http://andrewcarnegie2.tripod.com/transit
>